Coming March 2016
It has been three years since the day of the Second Jolt. Thanks to the efforts of a select few, the world is finally moving on. As the Variant air begins to thin, humanity finds itself on the cusp of a new age of exploration…but at what cost?
After closing the rift—the source of all Variant—the hybrid child known as Terry has been transported to a distant world, far away from the only home he's ever known. Completely isolated, he wanders through the ruins of an ancient civilization long forgotten.
Back on Earth, a young woman named Mei works tirelessly to uncover the secrets of the rift. Against orders, she searches for the truth, making an unprecedented gamble. Will her obsession bring the answers she so desperately seeks…or will it cause even more destruction?
Find out in the exciting second installment of The Variant Saga.
---
Out Now!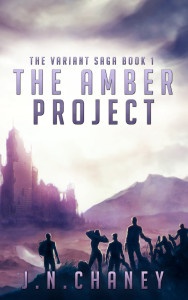 Everything is a grave.
In 2157, a mysterious gas known as Variant spreads across the globe, killing or mutating most organic life. The surviving humans take refuge in an underground city, determined to return home. But after generations of failures and botched attempts, hope is beginning to dwindle. That is, until a young scientist makes a unique discovery—and everything changes. Suddenly, there's reason to hope again, and it rests within a group of genetically engineered children that are both human and Variant.
Terry is one of these children, modified and trained to endure the harsh conditions of a planet he cannot begin to understand. After years of preparation, Terry thinks he knows what to expect. But the reality is far stranger than anything he can imagine—and what he will become is far more dangerous.
Available on Amazon, Barnes and Noble, ibooks, and Kobo!
The Amber Project is out now for only $3.99!